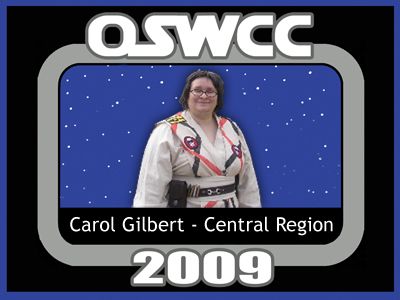 This is the 2nd in a series of features on OSWCC members.
Name: Carol Giilbert
Region: Central (outer rim of Ohio)
* Age: 42
* Hometown: Celina, OH
* Occupation: retail clerk/ student/ caregiver
* Time in OSWCC: 4 years
* Family: husband, one son
* Favorite Movie: Episode 3:Revenge of the Sith
* Collecting Focus: Jedi (young Obi-Wan), but really whatever catches my eye
* Star Wars fan since: 1977
* Favorite character: Obi-Wan Kenobi
* Originals or Prequels: Prequels (even though I grew up in OT and saw all those at the theatre, I love seeing the Jedi in action)
* Favorite quote from the movies: "Fear leads anger, anger leads to hate, hate leads to suffering…"
* Loose or Mint on Cards: Both
* Vintage or Modern: Modern
* Collection location: in my house, currently changing rooms so its a shambles
* Novels or comics: Novels
* Dark Side or Light Side: Light Side, but there are a few Dark characters I like…Maul kicks butt and General Grievous is kinda cool.
* Star Wars dream job: If I can't be a real Jedi, then Fan Relations or PR for Lucasfilm.
Here are a few pics of Carol's collection: