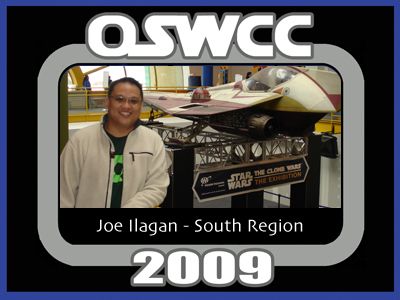 This is the eighth in a series featuring our members
Name: Joe Ilagan
Region: South Region (Outlander, Indianapolis)
* Age: 29
* Hometown: Indianapolis, IN (Formerly Lebanon, OH)
* Occupation: Graduate Student
* Time in OSWCC: Since C3, 2005.
* Family: my wife Kim and daughter Anastasia
* Favorite Movie: Episode 3, Revenge of the Sith
* Collecting Focus: Gentle Giant Animated Maquettes, Clone Wars Animated Figs, and all things Green Lantern (hehe)
* Star Wars fan since: I went to see Jedi in '83 with my Dad and older brother, I don't really remember seeing it, but I do remember playing with all the toys growing up and loving every minute of it, watched the VHS tapes etc. But found my own love for SW when the Special Editions came out in 1997.
* Favorite character: Anakin Skywalker/Darth Vader
* Favorite item in your collection: My TK Armor, with my C3 Vader a close second, I stood in line for hours and enjoyed talking to all the other fans in line and being at C3.
* Originals or Prequels: Neither really, my favorite era lies in the time between the OT and Prequels. I love the clone wars series and I am a big EU fan.
* Favorite quote from the movies: "All who gain power, are afraid to lose it…"
* Loose or Mint on Cards: Loose baby, gotta let 'em breathe!
* Vintage or Modern: Modern
* Collection location: In my den/office, in Ikea Detolf cases.
* Novels or comics: Comics/Trade Paperbacks
* Dark Side or Light Side: Dark Side
* Star Wars dream job: Being an animator or working with video games for LucasArts. Also, I would love to do PR with LucasFilm, I would wake up everyday excited to go to work for any of those jobs!