FOR IMMEDIATE RELEASE
Five of the largest Star Wars collecting clubs in the US are pleased to
announce a LucasFilm approved set of five themed patches for Star Wars Celebration V.  The
participating clubs are The Washington DC Area Star Wars Collecting Club
(DCSWCC), The Kentucky Star Wars Collectors Club (KSWCC), The Ohio Star Wars Collectors Club (OSWCC), The Pennsylvania Star Wars Collecting Society (PSWCS), and the Star Wars Grand Florida Alliance (SWGFA).  The five triangular embroidered patches, each sponsored by one of the clubs, fit
together like a puzzle to form a larger image of Boba Fett, the show's de facto mascot.  Design and artwork for the patches was provided by long-time web cartoonist Bill Cable.
All five patches will be available exclusively at Star Wars Celebration V
and free to attendees, but quantities are extremely limited.  Each club will
be distributing their sponsored patch in a different way, which will be
announced separately.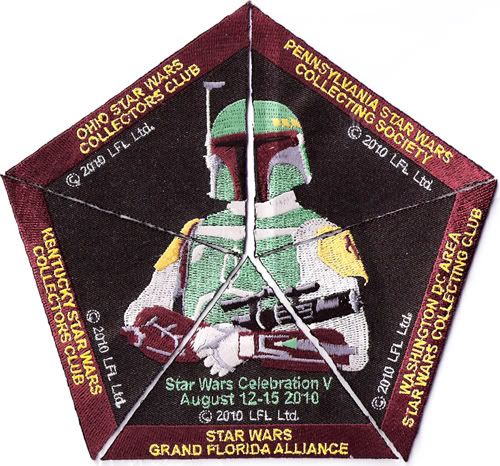 DCSWCC is one of the largest and most active collecting clubs in America,
with over 60 members.  The club meets monthly and holds special events
throughout the year such as socials, picnics, and "Roadshow" appraisal
events.  For more information, visit the club website at http://www.dcswcc.org
KSWCC is a locally based club focused on helping members become better
collectors, and helping each other in achieving their personal collecting
goals.  In addition to three regional monthly meetings where members keep
fresh with what's new and in the stores, KSWCC holds larger annual
gatherings which include the annual auction fund-raiser, Fall Social, and
the Regional Holiday Gift Exchanges.  For more information, visit the club
website at http://www.kswcc.com
OSWCC is a great resource where collectors all over the Buckeye State can
discuss collectibles, toys, and generally anything Star Wars.  Their three
regions host monthly meetings, and they have a strong online forum for their 275+ members.  The club attends many local toy shows and has outings to big conventions like Celebrations II, III, and now V!  For more information on OSWCC, visit http://www.oswcc.com , where you will find up-to-the-minute information on how to obtain their piece of the patch.
PSWCS celebrates their 10th anniversary this year, and a highlight of the
festivities is participating in their fourth Star Wars Celebration.  Their
360+ members are dedicated to enhancing the collecting experience through networking, education, and social events.  You can learn more about PSWCS at http://www.pswcs.com
The SWGFA consists of three clubs in the state of Florida: The Orlando
System, The Tampa Star Wars Club, and The Treasure Coast Star Wars Club.  We hold quarterly socials, local monthly meetings, and group outings.  These clubs represent fans of the Saga, collectors, costumers, and above all, those who share a love for all things Star Wars.  For more information on
the Alliance, visit http://www.swgfa.com