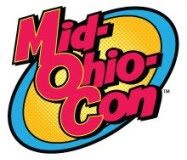 The Ohio Star Wars Collectors Club will be setting up as an exhibitor once again at Mid-Ohio Con. The show is in Columbus, Ohio at the Columbus Convention Center on November 6 & 7, 2010.
Now celebrating its 30th year, Mid-Ohio-Con is one of America's longest-running and most successful comic book and pop-culture conventions, carrying on a fun and family-oriented tradition of bringing fans of all ages together with leading comic book writers and artists, film and television stars and creators, and publishers and retailers from across the nation.
If you are interested in joining OSWCC, or want to stop by and talk about Star Wars or collecting in general, please feel free to come by our booth and say hello. We will have some items from our collections on display as well as information about the club. See you there! For more information on Mid-Ohio Con, click here.